Entek to Build $1.5-Billion EV Battery Component Plant in Indiana
Entek to Build $1.5-Billion EV Battery Component Plant in Indiana
The new plant in Terre Haute will support the growing electric vehicle (EV) industry in Indiana and across the United States.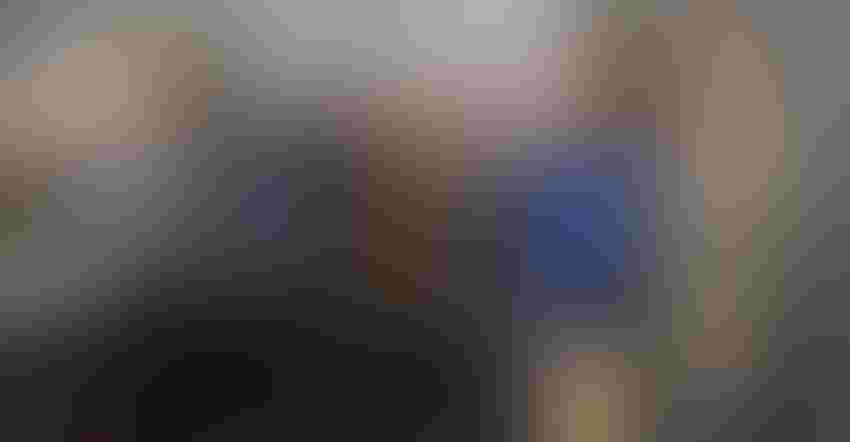 Pictured with Indiana state officials are Entek CEO Larry Keith (second from left) and Entek President Kim Medford (third from left).
Image courtesy of Entek
Entek announced yesterday that it plans to invest $1.5 billion in a new battery component production facility in Terre Haute, IN. The company's largest investment thus far will create up to 642 high-wage jobs by the end of 2027 and support the growing electric vehicle (EV) industry in Indiana and across the United States, said Entek.
"This is a great day for Terre Haute and for the state of Indiana," said Gov. Eric J. Holcomb in a prepared statement. "Entek's decision to locate a $1.5-billion battery component manufacturing facility here will have a transformational impact on the west-central Indiana community and the Hoosier economy for generations to come. This decision cements Indiana's leadership in the electric vehicle supply chain sector, and we are thrilled to partner with Entek to speed the commercialization of US-built EVs."

Entek, a global company headquartered in Lebanon, OR, and the only US-owned and US-based producer of "wet-process" lithium-ion battery separator materials, will establish operations on a 340-acre greenfield site in Vigo County Industrial Park II in Terre Haute. The company plans to initially construct four buildings covering approximately 1.4 million square feet equipped with machinery built at Entek's facilities in Oregon and Nevada. The machinery will include specialty biaxial stretching equipment supplied by Brückner Group USA to manufacture battery separators for lithium-ion battery manufacturers across the United States. As reported in PlasticsToday, the two companies recently signed an agreement for the installation of 18 lithium-ion battery separator film production lines at Entek's facilities.
Entek's site selection was focused on choosing both land and community, according to Entek CEO Larry Keith. "We chose Terre Haute for many reasons, including the excellent workforce opportunity, the incredible support provided by Steve Witt and the Economic Development Corporation, a nearly shovel ready construction site with available utilities located in an industrial park, excellent vocational education, and the business-friendly incentives from both the state and local governments," said Keith.
The campus, the purchase of which will be fueled in part by a $200 million grant from the US Department of Energy (DOE) as part of the recent Bipartisan Infrastructure Law, will help Entek to scale its US production, capable of supplying 1.4 million to 1.6 million EVs annually by 2027. The new giga-scale lithium-ion battery separator operations will leverage Entek's sustainable, state-of-the-art solvent extraction and recovery systems and processing techniques. The company added that it will work to utilize available renewable energy with a focus on a reduced carbon footprint. Groundbreaking is scheduled as soon as engineering and permitting is completed. Launch of the Indiana operation is expected between 2025 and 2027. 
This project is the first phase of Entek's planned expansion to produce about 1.4 billion square meters of ceramic-coated lithium separators across its operations. Phase 2 of the project will add up to an additional 1.8 billion square meters of battery separator produced annually for a total of 3.2 billion square meters, which will provide enough separators for about 3.5 million electric vehicles. 
Average wages for the more than 640 new jobs in Terre Haute will be well above the Vigo County average, said Entek. The company expects to begin hiring for key leadership positions in 2024 to facilitate recruitment of numerous associates throughout the operation, including production, maintenance, electricians, human resources, accounting, IT, safety, and environmental.
In addition to its energy storage division, which includes production of battery separators for lithium-ion and lead-acid batteries, Entek also manufactures equipment for the plastics industry and creates high-performance materials for a range of energy storage and functional membrane applications.
Pending approval from the Indiana Economic Development Corporation (IEDC) board of directors, the IEDC will commit an investment in Entek of up to $8 million in the form of incentive-based tax credits and up to $300,000 in training grants, based on the company's job creation plans. The IEDC also committed an investment of up to $200,000 in innovation grants; up to $200,000 in Manufacturing Readiness Grants, which help companies invest in smart manufacturing and new technologies; and up to $5 million in conditional structured performance payments. These investments are performance-based, meaning the company is eligible to claim incentives once Hoosiers are hired. Vigo County is considering additional incentives to support the project and Duke Energy has offered additional incentives to offset a portion of the energy costs.
Sign up for the Weekly Current newsletter.
You May Also Like
---
Sep 12 - Sep 14, 2023
The battery community's greatest event The Battery Show brings together engineers, business leaders, top-industry companies, and innovative thinkers to discover ground-breaking products and create powerful solutions for the future.
LEARN MORE