Simple Powder Brushed on Anode Extends Li-ion Battery Life
Simple Powder Brushed on Anode Extends Li-ion Battery Life
After 340 charge-discharge cycles, batteries with a thin film of phosphorus/sulfur powder on their anodes retained 70% more capacity than standard batteries.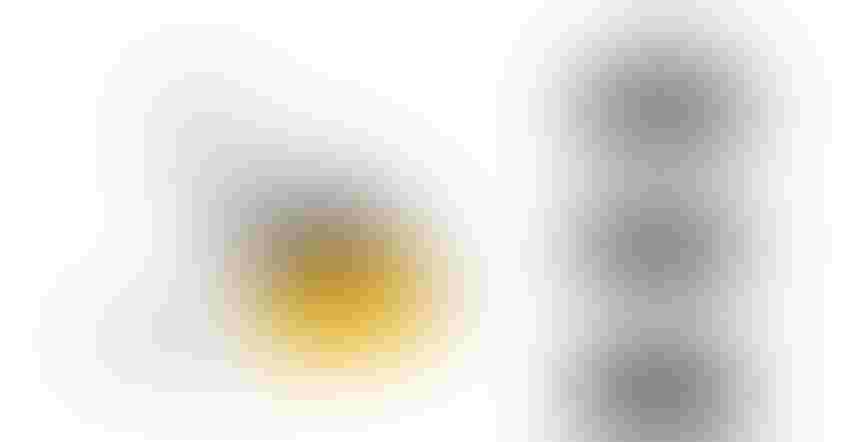 Left: A diagram shows how brushing metal powders into the surface of lithium anodes can curtail the threat of dendrites that damage recyclable batteries. Right: Scanning electron microscope images show a sequence of lithium foils treated by scientists at Rice University.
Images courtesy of Tour Group / Rice University
Researchers have been devising numerous ways to try to improve the performance of lithium-ion batteries and avoid degradation in the form of damaging dendrites that commonly affects them and causes them to fail.
A team of chemists from Rice University has come up with a rather simple way to do this by brushing powders comprised of phosphorus and sulfur onto the surface of the battery's anodes, they said. The researchers in the lab of Rice chemist and professor James Tour developed the powder, which adheres to the anode and becomes a thin, lithiated coating that prevents dendrite formation.
Defeating Dendrites
Dendrites are spikes that form on a battery's electrode that can puncture the barrier between the anode and cathode and make contact with the liquid electrolyte. This can cause the battery to have a short circuit or even catch fire, not only causing it to fail but also potentially creating a dangerous situation.
Tour's team discovered that a powder of phosphorus and sulfur ground onto the surface of lithium metal foil can tune its surface energy without needing to use toxic solvents. Anodes that were modified in this way and then paired with lithium-iron-phosphate-oxide cathodes in test battery cells demonstrated a retention of 70% more capacity after 340 charge-discharge cycles than off-the-shelf batteries, researchers said.
"This would simplify the manufacture of high-capacity batteries while greatly improving them," Tour said. "Sanding these powdered solids into a lithium metal anode dramatically reduces dendrite formation that can short-circuit a battery, as well as the accelerated consumption of the materials." 
Finding the Right Fit
Researchers didn't realize that the particular combination of phosphorus and sulfur was the right fit for the job at hand straightaway, they said. The team, including Rice graduate student Weiyin Chen, tested a variety of powder candidates on their battery electrodes to see which would have the desired effect—and they did it more than once.
The process of brushing first involved a surface layer to give the anode texture, than another brushed-in layer of powder to create a fine film on top of the electrode that reacts with the lithium metal to form a solid passivation layer.
"The powder at the lithium-metal surface produces an artificial passivation layer that improves the stability throughout the charge-discharge cycles," Chen said. "Using this brush-on method, the metal surface is stabilized so that it can be safely recharged."
Chen and another member of the team, Rodrigo Salvatierra, a former postdoctoral researcher and now an academic visitor in the Tour lab, designed and put together test batteries to see how the anodes would work.
These tests determined that the treated anodes retained what's called ultra-low polarization for more than 4,000 hours, about eight times longer than bare lithium anodes. This demonstrated an improvement in the device performance, as polarization—which can decrease the output voltage of batteries—is another damaging characteristic for lithium-ion batteries.
Streamlining Behavior
In essence, the powders effectively tune the surface energy of the electrodes, which creates a more uniform behavior across the material as a whole, and thus a more stable device, Tour said.
"This provides a metal composite surface that prevents the loss of lithium metal from the anode, a common problem in lithium-metal batteries," he said in a press statement. "Lithium-metal batteries far exceed the capacity of traditional lithium-ion batteries, but the lithium metal is often difficult to repeatedly recharge."
Researchers published a paper on their work in the journal Advanced Materials.
Tour's team also demonstrated that their technique may have wider application by grinding the powder into a sodium electrode. This action resulted in stabilization of the voltage overpotential of the electrode, researchers said.
The idea to brush powders onto material surfaces stemmed from earlier work conducted by Tour and a colleague in mechanical engineering at Rice to make surfaces superhydrophobic by sanding certain powders into surfaces.
Elizabeth Montalbano is a freelance writer, journalist and therapeutic writing mentor with more than 25 years of professional experience. Her areas of expertise include technology, business and culture. Elizabeth previously lived and worked as a full-time journalist in Phoenix, San Francisco and New York City; she currently resides in a village on the southwest coast of Portugal.
Sign up for the Weekly Current newsletter.
You May Also Like
---
Sep 12 - Sep 14, 2023
The battery community's greatest event The Battery Show brings together engineers, business leaders, top-industry companies, and innovative thinkers to discover ground-breaking products and create powerful solutions for the future.
LEARN MORE